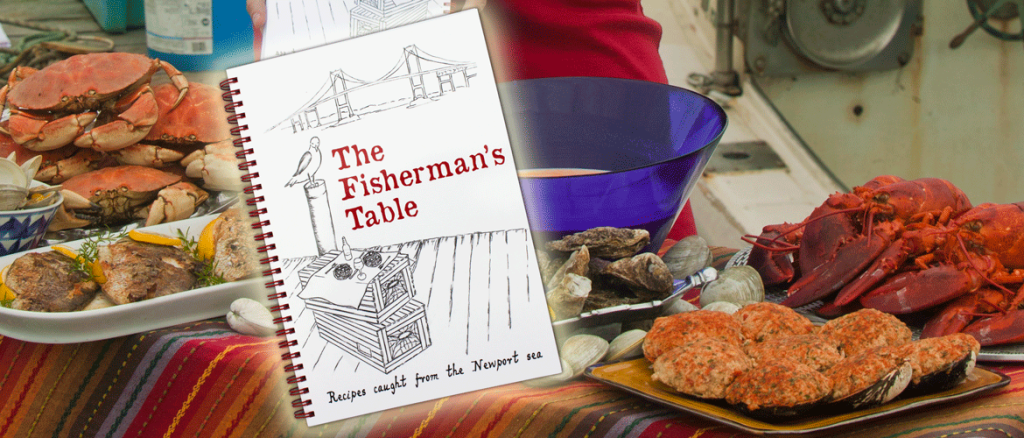 We are happy to announce Rhode Island's seafood cookbook – The Fisherman's Table. Its 120 pages detail creative ways to cook  Aquidneck Island's local catch, from lobsters, to crabs, to fin-fish, to berries! Written with input from the Fishermen of Newport, it is packed with salty tricks and tips on how fishermen, the experts, prepare seafood! All recipes are trusted, tested and tasty, utilizing only main ingredients that can be harvested from the island or its waters. Chapter headings explain the different varieties available in the Ocean State, giving cooks the confidence they need to explore local seafood. Check us out on the Rhode Show and in the Newport Daily News!  
Example Recipes to make your mouth water…

White Clam Pizza
Lobsterman's Pie
Sand Crab and Roasted Corn Chowder
Red Curried Mussels
Lobster Stuffed Lobster
Blackfish Cioppino
Sweet Potato Fish Cakes
Mushroom & Bacon Stuffies
Tequila Lime Grilled Calamari
Conch Salad
The book is ready for sale, but the site is still being tweaked…  Look forward to video recipes like: Lobster Ravioli in a Saffron Cream Sauce and helpful how-to's like: How to Scale a Fish.  Meanwhile, check out our Recipe of the Month: Lobsterman's Mac 'n' Cheese!
And if you're in Newport looking for fresh seafood…as always, check out the Newport Lobster Shack for the freshest catch around!