Blackfis
h Cioppino – From The Fisherman's Table Cookbook
This recipe can be made 100% with Aquidneck Island ingredients! Prep tomato sauce ahead!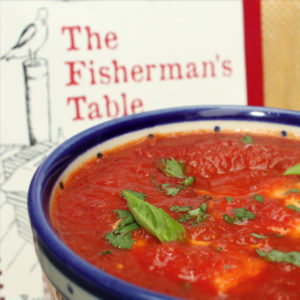 Blackfish's firm texture makes it great in soups. This simple tomato-based fish soup begs for a rainy day and a good book. Use homemade stock in the recipe to get the most out of your fish. It is even better the second day after the flavors share!
The Catch
1 ½ pounds Blackfish (Tautog) fillets
The Groceries
1 Tablespoon olive oil or butter
1 small onion, chopped
1 medium carrot, chopped
3 cloves garlic, chopped
½ teaspoon red pepper flakes
1 8-ounce jar homemade tomato sauce
1 28-ounce jar crushed tomatoes
1 bay leaf
4 cups FISH STOCK (page 54) OR clam juice
1 teaspoon dried basil
1 teaspoon dried thyme
1 teaspoon dried marjoram
¼ teaspoon saffron (optional)
1 cup dry white wine
1 Tablespoon fresh parsley, chopped fine
black pepper

The How To
HEAT olive oil or butter in big stock pot over medium-high heat.
SOFTEN onion, carrot and garlic until tender – without burning garlic.
ADD tomato sauce, tomatoes, white wine, fish stock and all seasonings except parsley.
SIMMER for one hour, stirring occasionally.
CUT fish into 'bite-sized' pieces.
ADD fish and SIMMER for 10 minutes.
SERVE sprinkled with black pepper and chopped parsley.